Triund Trek Dharamshala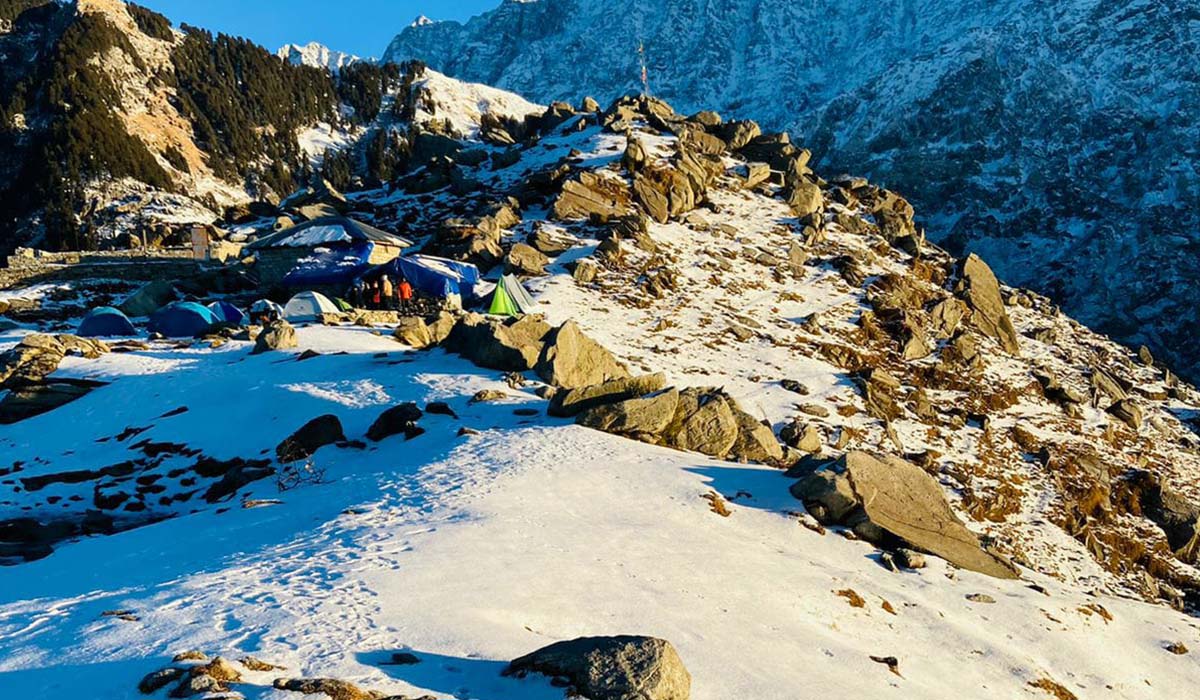 Call Whats app 9958308506

Triund Trek is a peaceful and interesting trekking destination. It is located 8km from Dharamshala in the Dhauladhar Range and offers breathtaking views of the Dhauladhar ranges to one side and Kangra valley to the other. The Triund Trek is moderately thrilling and popular with adventure seekers of all ages. It is thrilling and exhilarating. Triund's unique beauty is highlighted by the stunning views at the top at various times of the day, such as dawn, dusk, and moonrise. The Triund trek is a series of steep, but well-defined, trails that wind through lush green rhododendron or oak forests. There is no need to worry about getting lost or how to get to Triund. This Triund trek guide will answer all your questions. Triund Trek is accessible throughout the year except for January and February. These months are when heavy snowfall can cut some parts of the trekking route. Triund's warm and sunny weather and beautiful views make it the ideal time of year to visit. Triund has cool, comfortable weather all year.
Himachal Holiday packages on Triund trek
Dharamshala - Triund Route : Mcleodganj, Dharamkot, Gallu – Triund Total Duration :
01 Day (Full day) The trek begins at Mcleodganj, and heads towards Triund. The next 5km are a gradual trek, starting from Galu temple. Start time: 10 am every day. Galu Temple is your first destination. From there, you will head towards the trail that leads to triund. The 5 km to the next Galu temple are much more gradual than those at the start of the trek. The final stretch of the trek is quite tiring and requires some skill. Triund, surrounded by mountains to the north and Kangra valley south, is the most beautiful meadow. Triund trek There's some forest and resthouses. To the north of Triund lies Mt. Indrahara (4320mts), also known as Moon peak.
The return route is more difficult and rocky, and it depends on the weather. You must also be a good walker. The entire trek is covered in cedar, oak and Rhododendron trees. There are many types of himalayan flower. A magical view cafe can be found on the halfway point, which is a lovely place to stop and rest. The whole trek is delightful, challenging, and enjoyable.
Cost includes: Private departures may incur additional transport costs. This can be done once we have information about the dates, vehicle selection and group size. Vegetarian Packed lunch. English speaking Expert Mountain Guide. Walking Stick and Ponchos Important Information: Transport Options (Delhi, Mcleodganj, Delhi) There are three options for travel to Mcleodganj. You can choose to fly or take the road. Gaggal DHM is the nearest airport. It is also known by Kangra Airport (or Dharamsala Airport) and is easily connected to Delhi and other parts the country via Kingfisher Red.
Public Transport buses are available regularly from Delhi to Mcleodganj, which cost around Rs. 550 - 900 per person. These buses depart Majnu ka tilla once every 30 minutes. The trip takes about 12 hours. You will need to travel the entire distance. This applies also to the return journey.
You can also arrange for a private vehicle if you are interested.
Triund trekking Weather Details
Summer in Mcleodganj runs from March to June. The temperature range is between 23degc to 27degc. Mercury can sometimes reach 38degc, but rarely goes above that. The temperature drops to -1deg in winter, while the maximum temperature rarely rises above 20degc.
The above information is not precise and cannot be used to account for sudden changes. No matter what the weather, we are equipped with high-quality equipment that will allow us to manage it without any problems.
Weekend Destination
You can enjoy the trek to Dharamshala's most beautiful destination on weekends. It offers breathtaking views of Dhauladhar's mountain range. The campsite is perched on the top of the Kangra Valley. The trek will start from the majestic town of Mcleodganj It is a very famous weekend attraction for those people who can not go for long Himachal Trekking Tours.
Triund is a small hillstation in Kangra district, India's Himachal Pradesh. Triund Hill Station forms part of Dharamkot. Triund lies at the foot the Dhauladhar Ranges at a height 2,828m.
Triund Hill
Triund is a vast land of green grass and meadow-like. Just above your eyes, you can see the Dhauladhar mountains. The ridge elevation is between 2,810 to 2,875 meters. The trek takes approximately one day. It is approximately 10 km (one-way) from Mcleodganj bus stop and less than 6 kilometers (one-way) from Galu temple in Dharamkot. Some parts of the trail are rocky and have steps. The Galu Devi temple is reached by a clear path that passes through beautiful oak and deodar forests. Because of the 22 turns required to get to Triund, this stretch through the woods has been called 22 Curves.
Transport and connectivity
Road transport for the near includes a Pathankot to Gaggal, then Dharamsala to Gaggal and New Delhi to Chandigarh, Kangra, and finally Dharamsala.
On the Shimla Kangra narrow gauge railway line, the nearest stations are at Jassur (Nurpur Kangra and Himachal Pradesh), and Parlor railway station near Nagrota (20 km south of Dharamsala). Pathankot, which is approximately 85 km away, is the nearest railhead for the broad gauge.
Gaggal Airport, also known as Kangra Airport, is located in Gaggal Market. Turn left towards Dharamsala.
Triund Campsite
Triund Campsite serves as a base camp or acclimatization station for trekkers who are climbing to the Inderahara point on Mt. Dhauladhar. Trekkers will find the view from Triund's evening sky a reason to pitch a tent for the night. It is perfect for a weekend because of its length.
What should you bring for Triund Trek
Day Sack: Water bottle, camera, lunch, personal clothes, and a water bottle. Sports Shoes Shoes that are easy to walk in.
Sun Protection: Sun Screen lotion, sunglasses, cap,
Walking in T-Shirts and a loose trouser
Light jacket (Light woolen), Heavy jacket for nighttime
Flip Flops
Small torch.
If you have any personal medicines
Why trek to Triund and Snowline?
Reason 1: The best view of Dhauladhar Himalayan Range
The Himalayan adventure is a great choice for a group of friends who are looking to travel with their adventurous friends. All this begins with the breathtaking views of various ridges and meadows, as well as valleys and snow-covered towering mountains. Triund, at 2825m elevation, offers the best view of Dhauladhar range in the Himalayas. You won't find a better view at the same elevation anywhere else. Triund, the easiest trek among all the others, including Indrahar Pass Trek and Kareri Lake Trek, as well as Beas Kund Trek and Beas Kund Trek that start from Mcleodganj, Dharamshala or Mcleodganj, offers a stunning view of the Dhauladhar range.
Reason 2: Your friends don't have to be experienced Trekkers.
Triund Trek is not exhausting or demanding by nature. It takes approximately. An inexperienced trekker will need to finish the Trek in 4 hours. The Trek starts at Bhagusu. Stopping at various points along the trail allows you to take photos in the Himalayan paradise. The Triund trek begins in Mcleodganj. It takes approximately 4-6 hours to hike uphill to reach Triund hill.
Reason 3: Stargazing at 8400 feet with your friend
Triund's night sky is amazing and breathtaking. Star-strewn skies will amaze you.
Season
As heavy snowfall is possible, it's not feasible to trek to Triund in January and February. From April to November is the best time to do the Triund Trek. The temperature can drop below zero at any time and snowfall could occur in March or April. However, the Triund trek offers the best experience starting in March.
You can find more information on Triund Trek in the FAQs.
You can also contact the organizer to reserve your Triund Trek including accommodation and food.
Program
( 2 days / 1 nights )
Day1

Mcleodganj to Triund Hill (4-5 hours of trekking)

At 9 AM, you can start your trek from Bhagsu Nag Triund (2875 m).
Start your trek from Mcleodganj. You can reach Bhagusu Na and then hike from Bhagsu Nah. It is a magical experience to walk through dense forests of Oak, Rhododendron and deodar. This alpine meadow overlooks the snow-capped peaks at Dhauladhar. The Kangra Valley can be seen from the opposite side. We will then rest for the night after dinner and star gazing at our beautiful mountain lodge.

Day2

Triund Hill to Snowline and back to Mcleodganj (4-5 hours of trekking)

Get up early and see the sunrise over the majestic mountains and Kangra Valley. The finest thing is to be with your own. If you want to visit Snow Line (5Kms), then leave early in the morning from Triund. Else To reach Bhagsu Nag village, it will take approximately 4 to 5 hours. You can also stop at Lahesh cave on the way. Bhagsu Waterfall will be visible. This is the end of your trek.
Excellent
( Based on reviews )
FREQUENTLY ASKED QUESTIONS
Each trekker is responsible for his/her own safety. Trek organizers, guides, porters will not be responsible for any damage, theft, or loss of goods.
INCLUSIONS
| | |
| --- | --- |
| INCLUSION | EXCLUSIONS |
| - Basic vegetarian meals(Dinner on day-1 & Breakfast and on day-2) | - Transport from home town to McLeodganj |
| - Accommodation at trekking tents on a twin-sharing basis at the hilltop | - Anything not mentioned in Inclusions |
| - Sleeping bag | - Items like soft drinks and personal items |
TERMS AND CONDITIONS
CANCELLATION AND REFUND:
Cancellations prior to 10 days from the start of the trek are entitled to a full refund(excluding the transaction charges)Cancellation between the 9th day and the 3rd day to the start of the trek will have an 80% refund. Cancellation less than 3 days to the start of the trek will have NO refund. For any assistance mail us at: info@indian-tours.in

DISCLAIMER:

This activity is hugely dependent upon weather. The trip may get canceled without any prior notice due to weather or any unforeseen adverse circumstances
GALLERY / PHOTOS