Pin Bhaba Pass Trek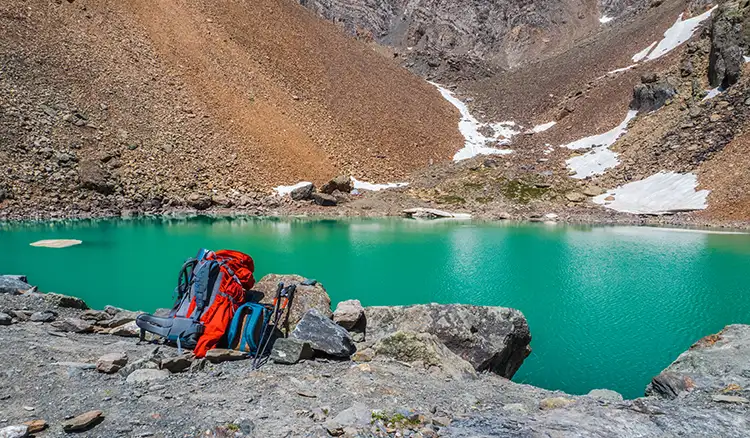 Pin Bhaba Pass Trek
The Pin Bhaba Pass Trek is a high altitude trekking adventure that takes you through the picturesque landscapes of the Pin and Bhaba Valleys in Himachal Pradesh, India. The trek reaches an altitude of 4,650 meters and offers stunning views of snow-capped mountain peaks, lush green meadows, and glistening glaciers. The trail passes through remote villages, ancient temples, and crystal-clear streams, providing a unique cultural and natural experience. The trek is moderately difficult and requires good physical fitness and trekking experience. The best time to do the Pin Bhaba Pass Trek is from June to September.
Pin Bhaba Pass Trek Highlights
The Pin Bhaba Pass Trek is a beautiful and scenic trek that takes you through some of the most breathtaking landscapes in the Indian Himalayas. Here are some of the highlights of the trek:
Stunning Mountain Views: The trek offers breathtaking views of snow-capped peaks, including the Kinnaur Kailash range and the Pin Parvati range.

Bhaba Pass: The trek takes you over the scenic Bhaba Pass, which is located at an altitude of 4,865 meters and offers stunning views of the surrounding peaks.

Pin Valley National Park: The trek passes through the Pin Valley National Park, which is home to a wide variety of flora and fauna, including snow leopards, Himalayan ibex, and blue sheep.

Traditional Villages: The trek takes you through several traditional Himalayan villages, where you can interact with the locals and learn about their culture and way of life.

Natural Hot Springs: The trek includes a visit to the natural hot springs at Kheerganga, where you can relax and rejuvenate after a long day of trekking.

River Crossings: The trek involves crossing several streams and rivers, adding to the adventure and thrill of the trek.

Camping: The trek involves camping in some of the most beautiful locations in the Himalayas, providing a unique and immersive experience of the outdoors.
Quick Facts About Pin Bhaba Pass Trek
| | |
| --- | --- |
| Trekking Season | June to September |
| Trekking Duration | 6-7 days |
| Maximum Altitude | 4,650 meters |
| Trekking Grade | Moderate to Difficult |
| Starting Point | Kafnu Village |
| Ending Point | Mudh Village |
| Nearest Town | Shimla |
| Nearest Railway Station | Shimla Railway Station |
| Nearest Airport | Jubbarhatti Airport, Shimla |
| Accommodation | Camping and Homestays |
| Famous for | Stunning mountain views, Bhaba Pass, Pin Valley National Park, and local culture |
How Difficult is the Pin Bhaba Pass Trek?
The Pin Bhaba Pass Trek is a moderately difficult trek that requires good physical fitness and prior trekking experience. The trek reaches an altitude of 4,650 meters and involves steep ascents and descents, rocky terrain, and river crossings. The high altitude and unpredictable weather conditions also add to the difficulty level of the trek.
However, with proper preparation, acclimatization, and a slow and steady pace, the trek can be completed by most fit and experienced trekkers. It's essential to have adequate trekking gear and equipment, including trekking shoes with good grip, a warm and waterproof jacket, a sleeping bag, and a trekking pole.
Overall, the Pin Bhaba Pass Trek is a challenging but rewarding trekking adventure that offers stunning views of the Himalayan landscape and a unique cultural experience.
Best Time to do the Pin Bhaba Pass Trek
The best time to do the Pin Bhaba Pass Trek is from June to September, which is the summer and monsoon season in Himachal Pradesh. During this time, the weather is pleasant, and the days are sunny, making it ideal for trekking. The temperature during the day ranges from 15°C to 20°C, and at night, it drops to 5°C to 10°C.
The monsoon season in Himachal Pradesh begins in July and lasts until mid-September, which means that there may be occasional rainfall, and the trail may become slippery and challenging. However, the rainfall also brings out the lush greenery and the vibrant wildflowers, making the trek even more scenic.
It's best to avoid the winter months from October to May as the trail is covered in snow, and the temperatures drop significantly, making it difficult to trek. Therefore, plan your Pin Bhaba Pass Trek between June to September to enjoy the stunning landscapes and pleasant weather.
Things to Carry on Pin Bhaba Pass Trek
Trekking Gear: A good quality trekking backpack, trekking shoes with good grip, trekking poles, and a sleeping bag.

Clothing: A waterproof and warm jacket, trekking pants, a fleece jacket, t-shirts, and thermal innerwear. It's also advisable to carry a poncho or raincoat in case of rain.

Personal Items: Sunglasses, sunscreen, hat, a water bottle, a headlamp, and a first aid kit.

Toiletries: Toothbrush, toothpaste, soap, and a quick-dry towel.

Miscellaneous: Power bank, camera, and extra batteries.
Program
( 08 days / 07 nights )
Day1

Drive from Shimla - Kafnu

On this rejuvenating day, you will gather at the designated location in Shimla at 7:00 AM. Afterward, board a vehicle and embark on a scenic drive through Narkanda and Rampur to reach Kafnu, a picturesque village nestled in the Bhabha Valley of Kinnaur. Upon arrival, check into the hotel for an overnight stay, as the next day marks the beginning of your Bhaba Valley trekking adventure.

Day2

Trek form Kafnu – Mulling

After enjoying a hearty breakfast, embark on the stunning Bhaba Pass trek route. The trail takes you through apple orchards and an easily navigable forested section. The moderate trail would take approximately 6 hours to reach Mulling Meadows, where you can soak in the natural beauty that surrounds you. You will spend the night in tents under the starry sky.

Day3

Trek from Mulling (3,100m) - Kara (3,550m)

On this thrilling day of the Bhaba Pass Trek, get ready for some exhilarating river crossings where you'll navigate through natural bridges. Admire the colorful alpine flowers along the way and perhaps even encounter some local shepherds in traditional attire. After a gradual ascent, reach Kara meadow and marvel at the breathtaking peaks on the Kinnaur-Spiti border. Your accommodation for the night will be in tents.

Day4

Trek from Kara (3,550m) - Phustirang (4,000m)

On this day of the Bhaba Pass Trek, depart from Kara and savor the journey to Phustirang. As you hike along the river's left bank, revel in the stunning scenery and catch a glimpse of the majestic Hansbeshan Peak, standing tall at 5,840m. Arrive at the campsite in the early evening and relax for the night. Your accommodation will be in tents.

Day5

Trek from Phustirang (4,000m) -Bhabha Pass (4,850m) - Baldar (3,900m)

On this day, you'll start by ascending towards the Bhabha Pass, which involves a steep and snowy path that requires extra effort and time. Once at the top, take in the breathtaking views of the surrounding mountain ranges, including the famous Pin Parvati Pass. After a short break, begin your descent towards the Spiti side, traversing through stunning landscapes that showcase the unique blend of grasslands and mountains of different hues. Your accommodation for the night will be in tents.

Day6

Trek from Baldar - Mudh, Drive from Mudh - Kaza

On this day, you will enjoy a leisurely trek to Mudh while taking in the stunning surroundings. Marvel at the purple-hued mountains, the meandering Pin River, and the vast open spaces. After exploring the charming village of Mudh, you will be driven to Kaza. Upon arrival, you will check into your hotel, freshen up, and spend the night there.

Day7

Drive from Kaza - Kunzum La (75km/2 Hours), Trek from Kunzum La - Chandratal

Enjoy a scenic drive to Kunzum La and pass through picturesque hamlets to experience their unique culture. After reaching Kunzum La, trek for approximately three hours to reach the campsite near Chandratal Lake. Take in the mesmerizing view of the turquoise water, surrounded by lofty mountains. Spend the evening soaking in the serene surroundings and overnight in tents.

Day8

Chandratal (4,270m) – Manali

On this day, the team will assess the road conditions and determine whether to trek for a short duration or a longer one, up to three hours, to reach the road head. From there, you'll be transported by vehicle to Manali via the renowned Rohtang Pass, signaling the conclusion of your Bhabha Pass Trek adventure.
FREQUENTLY ASKED QUESTIONS
INCLUSIONS/EXCLUSIONS
During the 7-night trek, you will be accommodated in tents, with 3 people per tent. Separate tents are provided for male and female participants.
We offer simple, nutritious vegetarian meals, including breakfast, lunch, snacks, and dinner, throughout the trek.
The trekking permits and forest camping charges are included for Indian nationals.
We provide high-quality tents and sleeping bags in all camps, with sleeping bags capable of withstanding temperatures as low as -10 ºC.
Our expert trek leaders and support team carry safety equipment, including a first aid kit, oxygen cylinders, oximeter, etc., to deal with emergencies.
Our trek leaders are qualified in basic/advanced mountaineering and first aid courses.
Our support team consists of certified guides, cooks, helpers, and porters who are experienced in trekking in the mountain region.
TERMS AND CONDITIONS
CANCELLATION AND REFUND:
Cancellations prior to 10 days from the start of the trek are entitled to a full refund(excluding the transaction charges)Cancellation between the 9th day and the 3rd day to the start of the trek will have an 80% refund. Cancellation less than 3 days to the start of the trek will have NO refund. For any assistance mail us at: info@indian-tours.in

DISCLAIMER:

This activity is hugely dependent upon weather. The trip may get canceled without any prior notice due to weather or any unforeseen adverse circumstances
GALLERY / PHOTOS