Camping in Nainital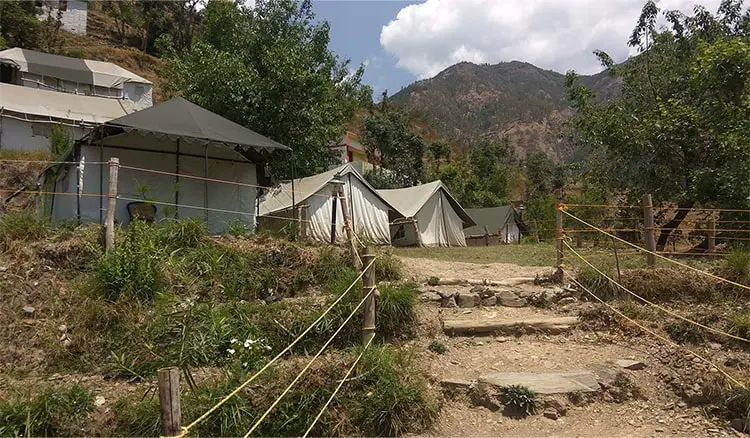 If you're looking for a place to camp in the Alaknanda region of Nainital, there are plenty of options available. From secluded campsites to bustling villages, this area has something for everyone. In this blog post, we've compiled 9 sites that are perfect for a mix of nature and adventure. So if you're looking for a break from the city and some peace and quiet, Nainital is the place for you.
Nainital camps - Camp Dhanuli is a perfect weekend getaway around Delhi. Nestled in the small hill town of Dhanauli, Camp Dhanuli offers 17 luxurious cottages making it a perfect weekend getaway for adventure and peace lovers who wish to break away from the conventional hotel setups in Nainital. Unlike the cramped spaces and loss of scenic views in hotels in Nainital, the camp oversees a huge scenic valley space and offers some of the best Adventures like Paragliding, Rock Climbing/Rappelling, Waterfall treks and in-house rope courses. The campsite also offers one of the best lodging arrangements tucked in the beautiful valley of Nainital, and offers state of an art amenities, and activities for people of all age groups. So if you're looking for a tranquil escape with all the modern amenities at your doorstep, Camp Dhanuli is definitely worth checking out!
History of Nainital
Nainital was known as a summer resort in British India from the late 1800s. It became popular with the British army when officers were transferred to the area for rest and recreation. The town, which is located in the Kumaon region of Uttarakhand, has retained much of its colonial architecture. Today, Nainital is a popular tourist destination, famous for its natural beauty and peaceful atmosphere. It is a great place to take a break from the hustle and bustle of everyday life and relax in nature.
Top 9 Best Campsites in Nainital
Camping is one of the best ways to get away from it all, and Nainital is a great place to do just that. Whether you're looking for a secluded spot to spend the weekend or want to explore some beautiful scenery, these nine campsites in Nainital will have you covered.
Nature View Camp
Nature View Camp is one of the best camping spots in Nainital. It has panoramic views of the Himalayas and is perfect for hikers and nature lovers.
The camp site is located on a valley floor, with plenty of trees to provide shade. You can also find a stream at the camp site, which makes it perfect for a peaceful picnic. The best part about Nature View Camp is that it isclose to all the attractions in Nainital.
Camp Wildland Nainital
Camp Wildland Nainital is one of the best campgrounds in Nainital. The campground has a wide range of facilities, including a playground, a cricket ground, and a swimming pool. There are also several restaurants and shops.
Dolmaar Riverside Camp
Dolmaar Riverside Camp is a great place to camp in Nainital. The campsite also has several activities available, such as fishing and hiking. There are also several stores and restaurants close by, so you can get everything you need while you're camping.
Overall, Dolmaar Riverside Camp is a great place to camp in Nainital. The beautiful surroundings and variety of activities make it one of the best campsites in Nainital.
Ayar Jungle Camp, Nainital
Ayar Jungle Camp is a great place to camp in Nainital. The campsite is located in the heart of the Ayar Forest, and it offers amazing views of the surrounding area.
Camp Mehi
If you're looking for a gorgeous camping destination in the Himalayas, look no further than Camp Mehi. This secluded spot is best known for its stunning views of Naini Tal and the mountains beyond. You can also enjoy plenty of hiking opportunities nearby.
Camp Mehi is located in an area that's known for its natural hot springs. So if you're looking to relax after a long day of hiking, this is the perfect place. There are also facilities available if you'd like to cook your own meals or stay in touch with civilization.
The campground is only open during the summer months, so be sure to book your stay ahead of time. But don't worry - there are plenty of other great camping options in Nainital if you can't make it to Camp Mehi.
Camp Dhanuli
Nainital is a hill station in the Indian state of Uttarakhand. It was formerly known as Dehra Dun and is located on the banks of the Alaknanda River. Nainital is a popular tourist destination for adventure sports such as skiing, mountaineering, trekking, fishing, and horseback riding. There are also many luxury hotels and resorts in the town catering to both domestic and international tourists.
There are several campgrounds in and around Nainital that offer a variety of facilities for camping enthusiasts. For those who prefer simplicity and nature ambiance, Camp Dhanuli situated at an altitude of 1560 meters offers serene surroundings with a few campsites spread over an area of about 20 hectares. The campsites are well-maintained with toilets and drinking water facilities available within a short distance. Campsites can be booked online through various online reservation portals or through registered travel agents in the town.
Camp Kyari
If you're looking for a serene, spacious camping spot in Nainital, look no further than Camp Kyari. Situated at an elevation of 2800 ft above sea level, this site offers stunning views of the surrounding valleys and peaks. There's plenty of space to roam around and plenty of campsites to choose from - perfect for groups of friends or families who want to get away from it all. And if you're planning on hiking or biking trails in the area, Camp Kyari is also ideal location as it's close to two popular routes: The Kanchenjunga trail and the Mall Road loop.
Sattal Birding Camp
Sattal, located in the Nainital district of Uttarakhand is a popular birding destination. The area is covered with dense greenery and offers a wide variety of habitats that are ideal for sightings of various birds.
The best time to visit Sattal is from October to March. This is when the country's winter migration happens and the bird population thrives. During summer, the area attracts a lot of tourists and it can be difficult to find a spot without being disturbed by other visitors.
There are several trails that lead to different parts of the forest and each offer its own set of wildlife sightings. A few recommended trails include the Trail to Basanti Valley, Trail to Machali Forest and the Trail to Sangam Tal which passes through several streams and wetlands.
Jungle Adventure Camp
Jungle Adventure Camp is one the best camping sites in Nainital that offers an amazing view of the Himalayas. It's situated on the banks of the river Ganges and has an area of 650 sq feet. The site has a modest shower facility and toilets. There are also campfire facilities for cooking and enjoying your time with friends or family.
ACCOMMODATION AT NAINITAL CAMPS
Nainital is a hill station located in the foothills of the Himalayas, in the state of Uttarakhand, India. It is a popular tourist destination and is known for its natural beauty, including lakes, glaciers, forests and hill stations. The 17 cottages provide a living area of 12 x 12 feet and have attached hot/cold running water washrooms with electricity, fans, heating bags and other amenities like Tea/Coffee Maker, Personalized Toiletry Kits etc. The cottages are placed in the blocks of 4-6 units, with common sitting balconies, overlooking terraced farm fields on one side and the Jim Corbett National Park on the other.
COTTAGES AMENITIES
· Queen Size Bedded Arrangements
· Mineral Water Bottles on daily basis
· Tea/Coffee Makers
· Electricity Supplies with charging options
· Running Hot/Cold Water Supplies
· Personalized Toiletries Kit
· Luggage Storage Racks
· Electric Heating Bags
ACTIVITIES & EXPERIENCES
At Camp Dhanuli,Nainital, we believe in the importance of activities and engagement amongst the group. Whether it's extreme adventures that will keep your adrenaline pumping or milder pursuits that will allow you to take a break and connect with others, we have something for everyone. Our activities range from rappelling, rock climbing, hiking, canoeing and rafting to yoga and meditation. We also have a wide variety of games and activities on offer to keep you entertained both indoors and outdoors. Whatever your interests, we are sure that we have something that will capture your attention. No matter what time of year it is, Camp Dhanuli, Nainital is always bustling with activity. With so much to see and do, there is no excuse not to make a visit!
Some of the activities on offer are:-
PARAGLIDING
Paragliding is basically a free flight with a glider aircraft. The pilot sits in a suspended fabric wing and is guided by the wing directions. The activity is enjoyed by people of all ages, abilities, and interests. There are starting platforms just 250 meters away from the property offering free flights ranging from 5-15 minutes in the valley.
ROCK CLIMBING/RAPPELLING
This activity today needs no introduction and is an ideal test of physical stamina and mental strength. We have a over 60 feet exclusive rock phase just 2-3 minutes from the campsite.
High Emphasis is laid on the safery parameters, while conducting this activity.
DAY TRIP TO THE CORBETT NATIONAL PARK (JUNGLE SAFARI) / NAINITAL
During your stay in Nainital, you can also plan a day excursion to the Corbett National Park. Being just 17 Kms from the Corbett National Museum, the park offers 4x4 jeep safaris and nature treks in the vicinity.
All jeeps are equipped with certified drivers and naturalist on-board to make sure you observe every detail of the forest.
IN-HOUSE ROPE COURSES AND ACTIVITIES
Nainital is a popular hill station in Uttarakhand, India. It is located in the Naini Tal valley and overlooks the Naini Lake. The landscape is varied with lakes, hills, and forests. There are many camping options in and around Nainital. The campsites are scattered in the proximity of 100km radius in and around Nainital. Next Halt offers several rope courses in-house like Burma Bridge, Jummaring, Trust walk etc. so that to keep you engaged while you are within the premises.
All these activities are conducted under the strict supervision of a certified trainer and all necessary preventive measures like daily check of the ropes and equipment, first aid on emergency etc. are taken into count before conducting these activities. Also, there are several outdoor and board games that are available like Volleyball, Badminton, Chess, Carom, and Darts etc.
Exploration is the essence of every adventure tourist in the world, it does not make a difference if the place is in famous, or in not so famous nooks and crannies of the country. Time stands still, the beauty overwhelms you, the freshness in the air rejuvenates the soul, the trees, the landscape & greenery fills our heart with joy. Camping is the most ideal way of exploring the region diversity and satisfying the thirst of adventure within us. We at "Next Halt" were muddled on the fact the options available are:
· Mehi Adventure Camps, Pangot
· Exile Camps, Naukuchiatal
· Camp purple, Mukteshwara
· Ayar Jungle Camps, Mallital
· Dolmaar Riverside Camps, Dolmaar
· Camp Dhanuli, Dhanuli
· Binsar Eco Camps, Binsar
How to get to Nainital from various parts of the world
Nainital is located in the Himalayas and is a popular tourist destination for both nature lovers and adventure seekers. Those coming from outside of Uttarakhand can arrive by air or rail, while those who are based in Nainital can take advantage of the city's many buses and taxis.
Those arriving by air can choose between the airports at Delhi and Kolkata. From either airport, travellers can take a taxi or take the Delhi Metro to West Delhi Station, from where they can take a bus to Nainital.
Rail passengers will need to first get to Haridwar Junction where they will need to change trains for Nainital. There are frequent services departing from both New Delhi and Mumbai Central stations. The journey takes around five hours and costs around Rs 1,000 onwards per person.
Those traveling through Kolkata may prefer taking a flight to Dehradun Airport, which is closer to Nainital than Delhi Airport. From Dehradun Airport, tourists can catch a taxi or bus to Nainital. The journey should take around three hours and costs around Rs 2,000 onwards per person.
Alternatively, those wishing to visit Nainital without having to leave their hometown may choose to stay in one of the many camping sites located within the city limits. Sites such as Chandi Wildlife Sanctuary offer visitors an opportunity to experience all that nature has to offer without ever leaving their campsite.
The best time of year to camp in Nainital
Nainital is a charming hill station located in the state of Uttarakhand in India. It is one of the most popular tourist destinations in the country and welcomes tourists any time of the year. However, the best time to visit Nainital is from February to November. During winter (October to February), the weather is cold with a maximum temperature of 15°C and a minimum going below 0°C. This is an apt time for honeymooning in Nainital. Summer (March to May) are very pleasant with temperatures never crossing 27°C and the minimum is about 10°C. This is the best time for sightseeing and enjoying the adventure. Monsoons (June to September) are occasional and bring out the best of the natural beauty. Here are 3 favorite camping spots in Nainital:
1) Pipalkoti: Situated on a foothill overlooking the valley below, Pipalkoti offers great views of Nainital Lake and the surrounding hills. There are many campsites here with pleasant locations near streams and lakes.
2) Auli Ghat: This site overlooks Auli Valley and has some beautiful mountain scenery all around it. There are several campsites here including one right next to a stream that makes for a refreshing dip after a day's hiking.
3) Kanchenjunga Base Camp: If you're looking for an adventure camping experience, Kanchenjunga Base Camp is definitely the place for you! With spectacular peaks all around you and challenging terrain, this spot can be daunting for first timers but well worth it in the end!
Tips for camping in Nainital
If camping is your idea of a perfect weekend getaway, Nainital is the place to go. The city sits nestled in the foothills of the Himalayas, and encompasses an impressive array of nature preserves, hiking trails and lakes within its boundaries. With so much to explore, there's surely a spot perfect for you.
For starters, consider camping at one of the many parks dotting the city – these offer stunning landscapes as well as handy amenities like toilets and showers. A few popular options include Ramnagar National Park and Jim Corbett National Park. Both boast extensive trails that take in varied ecosystems; make sure to pack your walking shoes!
If you're looking for something more active, head out into nature preserves like Rishikesh or Dehra Dun. These are great spots for hiking – be sure to check out detailed trail maps before setting out. If exercising isn't your thing (or if you're really unlucky), why not take a lazy dip in one of Nainital's many refreshing lakes? There are plenty around town – simply pick one that suits your mood and pack some snacks for a picnic on the way!
Finally, don't forget about the nightlife! Nainital's pubs and bars are sure to keep you entertained all weekend long – whether you're looking for a jolly time with friends or an intimate evening by yourself. Just make sure to get home safe by sunrise – Nainital's famously light traffic
Program
( 2 days / 1 nights )
FREQUENTLY ASKED QUESTIONS
Each trekker is responsible for his/her own safety. Trek organizers, guides, porters will not be responsible for any damage, theft, or loss of goods.
TERMS AND CONDITIONS
CANCELLATION AND REFUND:
GALLERY / PHOTOS