Paragliding in Bir Billing Himachal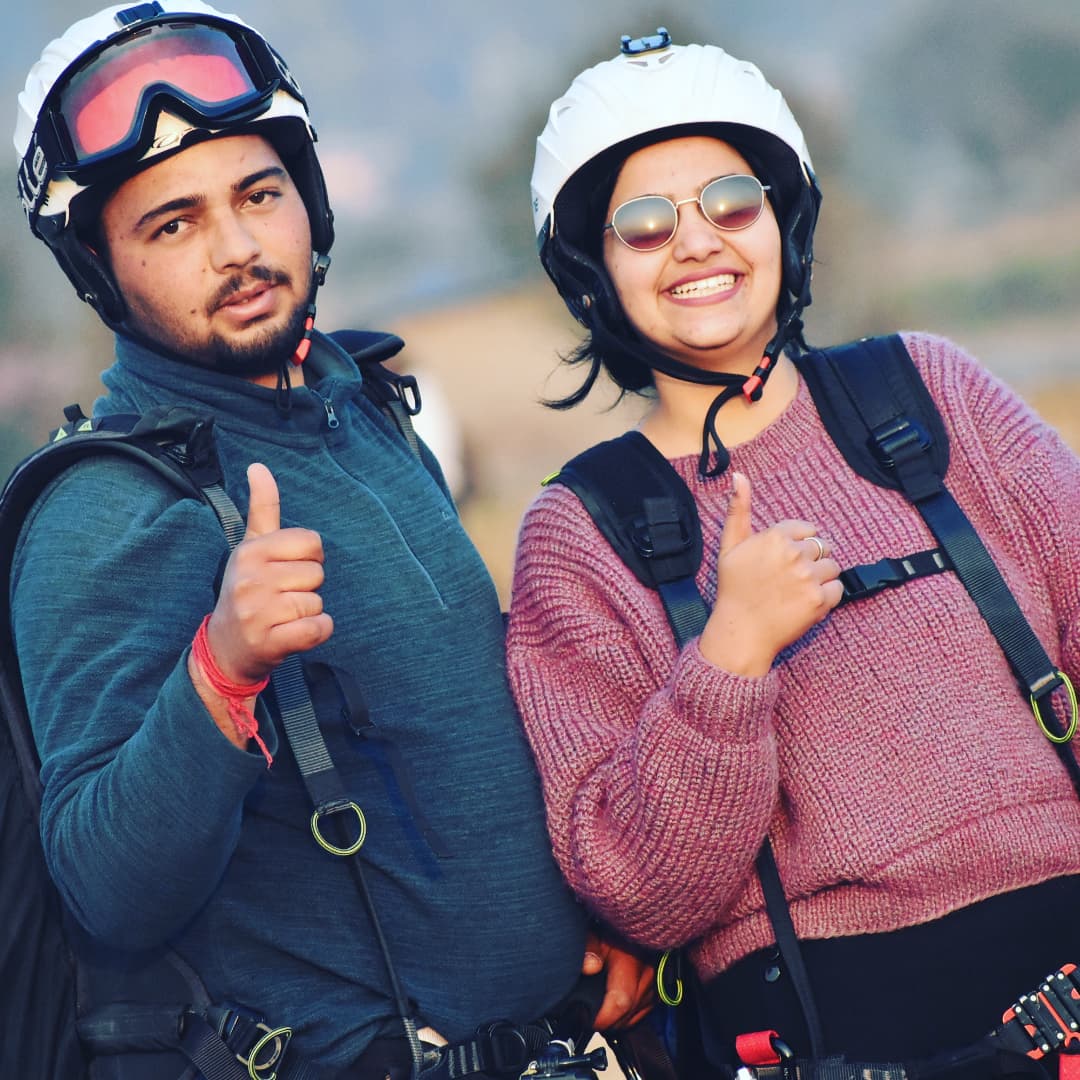 If you're looking for a thrilling adventure that will take your breath away, then look no further than Bir Billing paragliding. Nestled in the scenic Kangra Valley of Himachal Pradesh, India, this picturesque destination is known as the "Paragliding Capital of India", and offers an exhilarating experience unlike any other. From soaring high up in the sky to gliding over stunning landscapes and mountainscapes, it's no wonder why paragliders from all around the world flock here every year. If you're curious about what makes Bir Billing so special or are planning a trip there yourself, then keep reading for our detailed overview on everything you need to know about this ultimate adventure destination!
What is Bir Billing Paragliding?
Bir Billing is a small village in the state of Himachal Pradesh in India. It is situated at an altitude of 2,500 metres (8,200 ft) above mean sea level. The place is famous for its paragliding activities and has been designated as the best paragliding site in the world by the Guinness Book of World Records.

The word Bir means "forest" in the local language and Billing refers to "the nest of a bird". The village got its name from the abundance of forests and bird life in the area.

Paragliding is an adventure sport where one can fly like a bird using a specialised winged aircraft called a glider or paramotor. It is relatively new sport, having started only in the 1960s. But it has quickly gained popularity as it offers an unparalleled experience of flying and being one with nature.

Bir Billing offers ideal conditions for paragliding with its high mountains, gentle slopes and stable weather. The take-off site is at Bir (2,600 m or 8,530 ft) while the landing site is at Billing (2,400 m or 7,870 ft). There are two popular routes that pilots usually take - either Bir-Billing-Kunihar or Bir-Billing-Jassur.

The flight duration varies depending on wind conditions but typically lasts between 20 to 30 minutes. And it is an unforgettable experience for both first-time and experienced paragliders.
Why is Bir Billing Paragliding so popular
The Bir-Billing paragliding site is one of the best in the world and attracts adventure seekers from all over.

The main reasons for Bir Billing's popularity as a paragliding destination are its strategic location, favourable weather conditions and scenic beauty.

Bir Billing is located in the foothills of the Himalayas, which provides ideal conditions for paragliding. The town receives very little rainfall and has moderate temperatures throughout the year, making it an ideal destination for flying sports.

The stunning views of the snow-capped mountains and lush green valleys make Bir Billing a breathtaking place to fly. Add to that the thrill of floating like a bird through the sky, and it's no wonder that Bir Billing is such a popular destination for paragliders from all over the world.
Pros and Cons of Bir Billing Paragliding
Bir Billing is one of the most popular spots for paragliding in India. Every year, thousands of people come to Bir Billing to experience the thrill of flying high above the ground. While Bir Billing paragliding is an amazing experience, there are some pros and cons that you should be aware of before you book your trip.

PROS:

-The scenery in Bir Billing is absolutely stunning. You'll be able to see beautiful mountains and valleys while you're up in the air.
-Bir Billing has great weather for paragliding. The best time to fly is between October and November when the winds are calm and stable.
-There are many experienced instructors at Bir Billing who can help you have a safe and enjoyable flight.
-Paragliding is an incredible experience that everyone should try at least once in their life!

CONS:

-Paragliding can be weather dependent, so if the conditions aren't ideal on the day of your flight, you may not be able to go up.
-It can be expensive to book a paragliding trip, especially if you're coming from overseas.
-There is always a risk involved with any extreme sport like paragliding. However, as long as you listen to your instructor and follow all safety guidelines, you should be fine.
The Different Types of Paragliding
There are two types of paragliding: tandem and solo. In a tandem flight, the passenger is attached to the front of the canopy, while the solo paraglider has their own canopy. Both types of paragliding require a variety of skills and techniques to pilot successfully.
What to Expect During Your Flight
Most flights take place early in the morning or late in the afternoon, when the thermals are strongest. The flight lasts between 30 minutes and an hour, depending on conditions.

During the flight, you'll be strapped into a harness that's attached to the parachute. You'll sit in the harness with your legs dangling below you. The pilot will be sitting in front of you, and will navigate the parachute using handles that are attached to the risers (the cords that connect the parachute to the harness).

You'll take off from a launch site that's located on a hill or mountain. The pilot will inflate the parachute and then run down the hill with you until the wind catches the parachute and lifts you off your feet. Once you're airborne, the pilot will steer the parachute by shifting his weight and using the handles.

You'll soar through the air, riding thermals up to altitudes of 2,000 feet or more. You may even get lucky and see some wildlife during your flight!
Best time to go on Bir Billing Paragliding
The best time to go on Bir Billing paragliding is from October to November, as the weather is cool and dry at this time. December to February is also a good time to visit, as the weather is cool but can be wet. March to May is hot and dry, making it the ideal time for paragliding. June to September is the monsoon season, so Bir Billing paragliding may not be possible during this time.
Accommodation options at Bir Billing
There are several accommodation options available at Bir Billing. You can choose to stay in a hotel, resort, or even a campsite. There are many hotels and resorts located in Bir Billing, so you will have no problem finding one that suits your needs and budget. If you are looking for something more affordable, there are several campsites located nearby.
Bir Billing Paragliding Tips
1. Do your research: make sure to read up on Bir Billing and understand the conditions there before you book a paragliding trip. There are many reputable tour operators that offer trips to Bir Billing, so shop around and find one that you feel comfortable with.

2. Get in shape: while you don't need to be an athlete to go paragliding, it is important to be in good physical condition. This will help you enjoy your experience and not get too tired while you're flying.

3. Dress appropriately: Bir Billing can be cold, so make sure to dress warmly. Wear layers that you can take off as needed, and pack a windbreaker or jacket just in case.

4. Listen to your guides: when you're on the trip, listen to your guides and follow their instructions. They know the area and the conditions, so they'll be able to keep you safe while you're flying.

5. Have fun: most importantly, remember to have fun! Paragliding is an incredible experience, so make sure to enjoy every minute of it.
Food options at Bir Billing
The Bir Billing valley is home to a number of small, family-run restaurants that serve up fresh, local dishes. There are also a few international options for those who want something different. Here is a list of some of the food options available in Bir Billing:

1. Momo's Kitchen: This Tibetan restaurant is a favorite among locals and visitors alike. The momos (dumplings) are handmade and served with a delicious tomato chili sauce.

2. Seven Hills Restaurant: This restaurant offers Indian, Chinese, and Continental cuisine. The views from the rooftop terrace are simply stunning.

3. Kailash Parbat: This popular chain restaurant serves North Indian food including tasty vegetarian options.

4. Lotus Cafe: This cozy cafe is perfect for coffee or tea lovers. They also have a range of snacks and light meals available throughout the day.

5. Alpine Club Bar & Grill: This bar and grill is located in the heart of town and offers Western-style food and drinks.
Different activities at Bir Billing
There are a number of different activities that you can do while you are here. Here is a detailed overview of some of the different activities that you can do at Bir Billing:

1. Paragliding: Obviously, the main activity at Bir Billing is paragliding. There are a number of different companies that offer paragliding services, and you can choose from a variety of different packages. Whether you want to go on a short tandem flight or take a longer course to learn how to fly yourself, there is an option for you.

2. Hiking: Bir Billing is surrounded by beautiful mountains, and there are plenty of hiking trails to explore. If you want to get away from the crowds, this is a great way to do it.

3. Rock climbing: There are also several rock climbing spots around Bir Billing, so if you are looking for an adrenaline-pumping activity, this is definitely something to consider.

4. Mountain biking: Another great way to explore the area around Bir Billing is on two wheels. There are several mountain biking trails in the area, so whether you are a beginner or an experienced rider, there is something for you.

5. Bird watching: Bir Billing is home to a variety of different bird species, and it is a great place for bird watching. If you are a keen birder, this is definitely something to consider.

6. Camping: Bir Billing also has several camping sites, so if you want to stay in the area for a few days, this is a great option.
Alternatives to Bir Billing Paragliding
There are many alternatives to Bir Billing paragliding, but the most popular are Solang valley and Kullu Manali. Both of these locations offer stunning views of the Himalayas, and they are both very popular among tourists. There are many companies that offer paragliding in both of these locations, so you should have no problem finding one that suits your needs.
Conclusion
Bir Billing is one of the most popular paragliding destinations in India and for good reason. With a stunning landscape, great weather conditions, reliable paragliding operators and awesome view points, it's no wonder why so many people flock to this beautiful area each year. Whether you're an experienced flier or just starting out in the sport, Bir Billing offers something for everyone and provides a thrilling experience that you won't soon forget.
Program
( 1 days / 0 nights )
Paragliding 15-20 Minutes
FAQS - Frequently Asked Questions
Q.) What is Bir Billing Paragliding known for?
Bir Billing Paragliding is known for its breathtaking views, stunning landscapes and thrilling experience. It is one of the top destinations for paragliders from all around the world, offering opportunities to soar in the clouds at great heights. With qualified instructors and modern equipment, you can have a safe and exciting paragliding experience here.
Q.) Where is the paragliding capital of India located?
The paragliding capital of India is located at Bir Billing in Himachal Pradesh, India. It is one of the best spots to go for your paragliding experience because of its outstanding landscape, ideal conditions and breathtaking views that will stay with you for a lifetime. With Bir Billing Paragliding, you can be sure that you will get the best experience possible!
Q.) Can anyone go paragliding at Bir Billing, or do you require certain qualifications?
Anyone can go paragliding at Bir Billing. All you need is the enthusiasm to fly and the courage to take on an amazing adventure! We provide all the necessary equipment and training, so you don't have to worry about any prior qualifications. With our experienced professionals by your side, you can experience the unique thrill of flying in the sky with complete safety!
Q.) How long does a typical paragliding session last, and what kind of equipment is provided?
A typical paragliding session at Bir Billing usually lasts anywhere from 30 minutes to 1 hour. We provide high-quality, well maintained equipment such as helmets, harnesses, and parachutes to ensure your safety. Additionally, our experienced instructors will be there with you every step of the way to ensure a smooth and enjoyable experience.
Q.) What are the weather conditions like in Bir Billing, and how does that affect paragliding operations?
Bir Billing is located in the Himalayas, so the weather changes quickly and unpredictably. The temperature usually ranges between 5-30°C, with low humidity and moderate to strong winds. This makes the area ideal for paragliding, as the wind conditions are generally perfect for flight. However, due to high elevation and unpredictable weather, it is important to check local conditions before planning your trip. Our experienced pilots will always be ready to provide guidance on how to enjoy your paragliding experience here at Bir Billing.
Q.) Do you offer any additional services besides regular paragliding sessions, such as training tandem flights?
Absolutely! We offer tandem flights, personal training sessions and equipment rental services at Bir Billing Paragliding. Our experienced team provides the best instruction and safety measures to ensure that you have the ultimate paragliding experience. We also offer video shooting packages for those who want to keep their memories alive of this thrilling experience!
Q.) Are there any age restrictions for going paragliding at Bir Billing?
Yes, there is an age restriction. Participants must be at least 16 years old to go paragliding at Bir Billing. We also recommend that you consult with a doctor before booking your experience, especially if you have any medical conditions or health concerns. For safety reasons, we cannot accept participants who are pregnant or under the influence of alcohol or drugs.
Q.) How experienced are your pilots, and what kind of safety measures do you have in place to ensure customers' well-being during their flight(s)?
We are proud to have some of the most experienced pilots who have professional training and certification. Our safety measures include rigorous pre-flight briefings, equipping all pilots with emergency equipment, providing top quality piloting gear and we also ensure that our paragliding flights are made away from crowded areas. Additionally, our team keeps a check on the weather conditions before taking off to make sure that the flight is safe and enjoyable.
Q.) Do I need any prior training or experience to go paragliding with you?
Absolutely not! We provide a training and briefing to all our customers so that you can have an amazing experience of paragliding without needing any prior knowledge. Our experienced instructors are always around to help and guide you throughout your flight. So don't worry, just come prepared to have a thrilling journey at the paragliding capital of India- Bir Billing!
Q.) Are there any restrictions on weight and height for those who want to go paragliding at Bir Billing?
No! Everyone is welcome to enjoy the experience at Bir Billing, regardless of your weight and height. You may have to pay an extra cost depending on your weight, but even people with limited mobility can enjoy this great adventure. We have specially trained instructors that will ensure you stay safe throughout your journey. So fly high at Bir Billing and make wonderful memories!
Q.) Can I bring along my family members or friends to watch me while I go paragliding?
Absolutely! Bir Billing Paragliding is the perfect experience to share with family and friends. Not only can they come along with you, but they can also watch as you take flight over the stunning landscape of Bir Billing. You'll definitely have an experience of a lifetime!
Q.) Do you provide photo/video services during the activity and at what additional cost?
Yes, we provide photo/video services during the activity at an additional cost. This will let you take home a memorable piece of the experience of Bir Billing Paragliding and cherish it forever. The additional cost depends on the package you choose and other primary amenities chosen. Get your package today!
Q.) Can I book my spot online, and how much advance notice do I need to give for booking a slot?
Absolutely! We are delighted to offer you the ability to book your spot online anytime. You can make a booking up to 1 day in advance and, if you fancy flying on the same day of booking, we will try our best to accommodate you. For longer-term bookings, simply contact us with your preferred flight dates and we'll do our best to reserve them for you.
Q.) Who are the ideal customers or travellers that you cater to?
We cater to all kinds of travellers, from daring adventure seekers to those who just want a new experience. So whether you're a thrill seeker looking for an adrenaline rush or simply looking to take in the spectacular views on your journey, Bir Billing Paragliding has something for everyone. We also offer personalised paragliding packages and custom trips, ensuring each customer gets the most out of their experience here at Bir Billing.
Q.) What are some other activities that one can do apart from paragliding at Bir Billing?
Bir Billing is the perfect destination for adventure seekers and thrill seekers alike. Apart from paragliding, you can enjoy activities like mountain biking, zorbing, rock climbing, trekking, camping, bird watching and more. You can also explore some local interesting places like Buddhist Monastery and Lake Bhalu Dam in your spare time. With so many activities to choose from, you are sure to have a memorable experience!
Q.) Can first-timers try their hand at paragliding?
Absolutely! At Bir Billing Paragliding, we specialize in providing beginners with their first paragliding experiences. Our experienced instructors will provide you with all the necessary instructions, safety guidelines and equipment to ensure that you have a safe and enjoyable paragliding experience.
FREQUENTLY ASKED QUESTIONS
INCLUSIONS/EXCLUSIONS
Pilot
Bir Billing Transport
TERMS AND CONDITIONS
CANCELLATION AND REFUND:
Cancellations prior to 10 days from the start of the flight are entitled to a full refund(excluding the transaction charges) Cancellation between the 9th day and the 3rd day to the start of the flight will have an 80% refund. Cancellation less than 3 days to the start of the flight will have NO refund. For any assistance mail us at: info@indian-tours.in
DISCLAIMER:
This activity is hugely dependent upon weather. The trip may get canceled without any prior notice due to weather or any unforeseen adverse circumstances
GALLERY / PHOTOS