Kheerganga Trek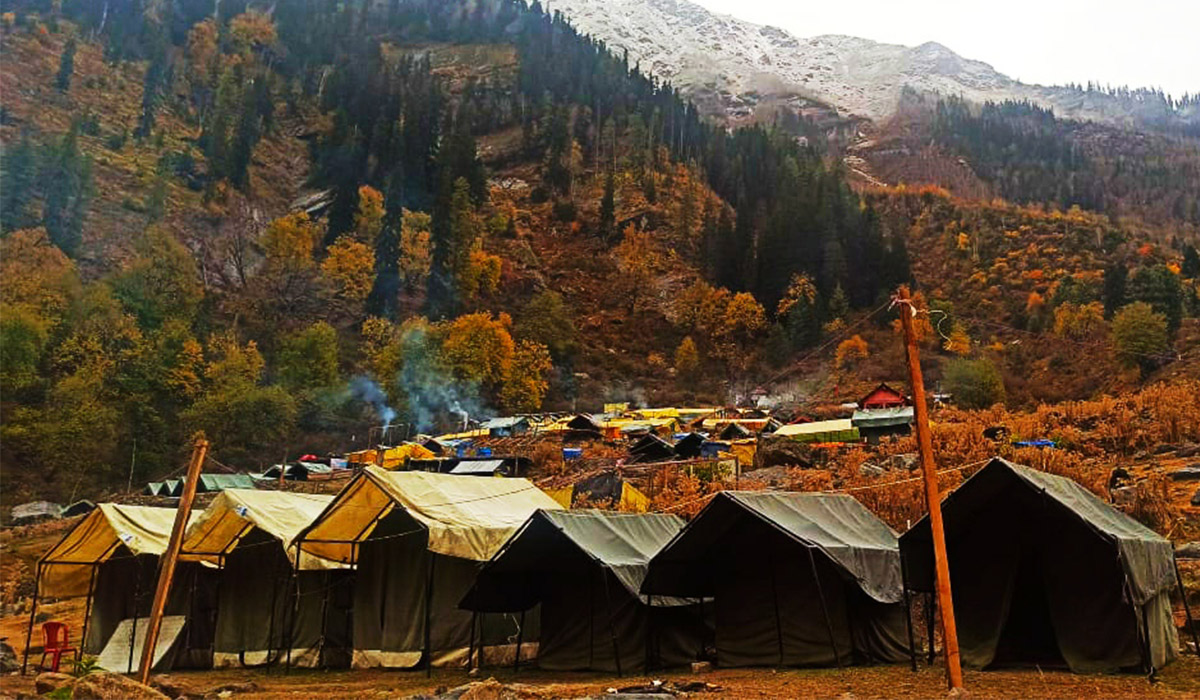 Call or Whats app 9958308506

Kheerganga Trek How would it feel to be surrounded by warm, natural water and see massive mountains from all sides? Imagine if the whole trekking experience is about waterfalls and small natural water pools that allow you to relax. It will be one of the most treasured moments in your life.
Kheerganga Trek is just 13 km long, but it is not for beginners. Kheerganga takes you along paved and twisted trails that have been used for centuries by local shepherds and village dwellers. These natural tracks are almost as unpredictable as other trails.
The Himalayan mountains are a stunning sight to behold, with their lush green meadows and stupendous heightened vibrescent oak trees providing a unique sense of relief and satisfaction.
Kasol & Kheerganga Weekend Trip
Kheerganga trekking has a long history of maintaining the traditional lifestyles and ways of the local villages. This trek allows you to avoid modern advances and enjoy the traditionality of Himachal villages with their sweet inhabitants.
During your exciting climb over the mountain, Parvati will continue to flow and welcome you at many stops and crossings. These are your chances to stop, take a break, recharge your water bottles, and then get back on the mountain.
Kheer Ganga weather is once again something to be proud of. Kheerganga temperatures range between 25 and 5 degrees Celsius throughout the year, except during winters. The landscape is surrounded by meadows, oak trees and bushes that are covered in a verdant, lush blanket of flowers. It is only 13km to reach the highest kheerganga elevation of 9700 feet. This will leave you amazed at its incredible beauty. Under a starry sky, you will camp right at the summit with other crazy people like yourself. It would be a wonderful moment. It is one of the most rewarding things to do with such an adventurous group of people, singing songs and sharing stories till the heart stops.
Kasol Tosh Kheerganga Trek
Barshaini village is about 16km from Kasol. This is our starting point. It is located in the Parvati Valley, it is a charming little hamlet of the Kullu district. Kasol's most well-known feature is the transparent Parvati river, which flows right beside it.
There are many riverside camping spots, themed cafes, inns, as well as adventure games. This is the perfect place to escape from the hustle and bustle of metro life, as well as for those who want some solitude. It offers easy access to Malana village and Tosh, Chalal, Gurudwara Manikaran Sahib, and stunning ranges of mountain as inspirations for writers and photographers. Another package is available that will take you from Kasol, to Kheerganga and includes nights of camping as well as wistful games.
Join us for one-of-a kind treks in Kheerganga that will take you to a natural retreat where peace, solitude, and rejuvenation are all possible.
Highlights:
* Stop living a busy life and take some time to be solemn.
* Explore stunning waterfalls and lush oak forests.
* Take a dip in the sparkling water of Parvati river
Enjoy a relaxing soak in a hot spring deep in the mountains
Program
( 2 days / 1 nights )
Day1

Arrive Barshaini and Report at our Reporting Venue by 10:00 am.

We will start our trek after completing your registration process from here. It's a 12 km trek which takes 3 to 4 hours depending on your speed and stamina. The trek offers some beautiful sights which will rejuvenate your mind. We will visit Shiva Temple, Rudra-Nag Waterfall and lots of interesting rock formations on the way. You can spend the evening at your own leisure near the bonfire and after the dinner relax by the camp dinner + breakfast + bonfire + music.

Day2

Rudranag-KheerGanga-Barshaini

Today, after breakfast, we will start our trek from Rudranag to KheerGanga. Take a dip in the most famous holy hot water spring nearby. After spending some time at KheerGanga, we will start our trek back to Barshaini.
Again a 12 kms trek but it will take lesser time to descend and you will see the beautiful sights all over again. We will reach Barshaini in 3 to 4 hours. You can plan to visit the local cafes at Kasol or plan of your own.
Excellent
( Based on reviews )
FREQUENTLY ASKED QUESTIONS
Each trekker is responsible for his/her own safety. Trek organizers, guides, porters will not be responsible for any damage, theft, or loss of goods.
TERMS AND CONDITIONS
CANCELLATION AND REFUND:
Cancellations prior to 10 days from the start of the trek are entitled to a full refund(excluding the transaction charges)Cancellation between the 9th day and the 3rd day to the start of the trek will have an 80% refund. Cancellation less than 3 days to the start of the trek will have NO refund. For any assistance mail us at: info@indian-tours.in

DISCLAIMER:

This activity is hugely dependent upon weather. The trip may get canceled without any prior notice due to weather or any unforeseen adverse circumstances
GALLERY / PHOTOS